In the course of the year, bearing in mind that our actions should be in harmony with nature, we are celebrating a festival on each of the four seasons (winter and summer solstices and the equinoxes in spring and autumn).
SUMMER
Saint John's celebration is a festival of fire, light, dance and burning old junk. Symbolically, the fire is fed with everything we have overcome along the year. We jump and dance to savour the joy of growth. (Without firecrackers or any other loud noises.)
AUTUMN
The castanyada (the word derives from chestnut) is time for meditation. Everything is calm, the tree's sap travels down toward its roots, it is time to be near the fire, roasting chestnuts and tasting panellets (small round cakes) made ​​with almonds, the powerful and concentrated fruit from the tree which is first to bloom and last to give us its fruit.
WINTER
As the sun reaches its lowest point, we think change is coming and daylight will begin to grow longer, minute by minute, in a quest for a yet unimaginable summer. We celebrate it on New Year's Eve, when we calmly ring out the old year and ring in the new, without any clock imposed hurry, without any stress, just connecting ourselves with that peace-rooted joy which manifests itself as sincere happiness.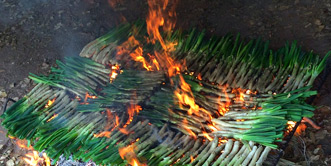 SPRING
This is the time when nature wakes up from its winter sleep and everything begins to grow… including the calçots (type of onions), and they have to be eaten. We celebrate spring by preparing a genuine calçotada outdoors and enjoying the warmth of the sun. This takes place in La Bartra around mid-March.